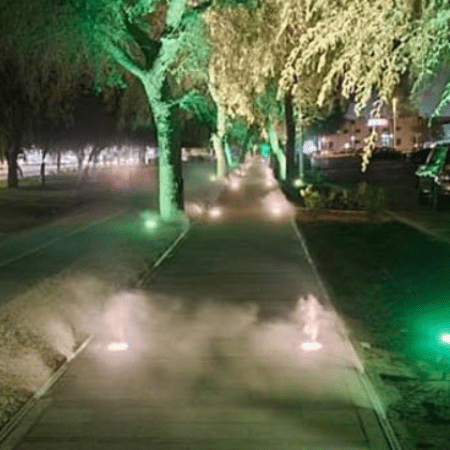 06 Nov

Water Walkways in Abu Dhabi to combat heat

In West Zone 3 of the Madinat Zayed, Al Dhafra Municipality, an innovative walkway has been designed with water sprinklers to efficiently cool tourists and increase quality of life, whilst efficiently using available water resources.

The walkway, which was completed only recently, has 70 lighting units, 54 illuminated trees and 1,400 water sprinklers.

The walkway is equipped with a bespoke innovative system designed to squirt cool water, which operates through timed motion sensors.

This watery walkway cools the pavement, whilst keeping the surrounding greenery healthy. Recently, the UAE has urged businesses to protect their water resources, including measuring their usage of recreational water and sprinklers.

The Kingdom has developed a water stewardship strategy that takes into consideration the role of water within an organisation. Businesses can audit their current usage and develop a plan of action to manage water sustainably and responsibly.

Results of the framework are to be documented, to ensure companies are appropriately taxed.

Through the appropriate usage of recreational water, businesses can more appropriately manage the emergency water required in sprinkler systems and continue to streamline the way in which they use their sprinkler systems, all whilst pushing for the development of new projects such as water walkways.