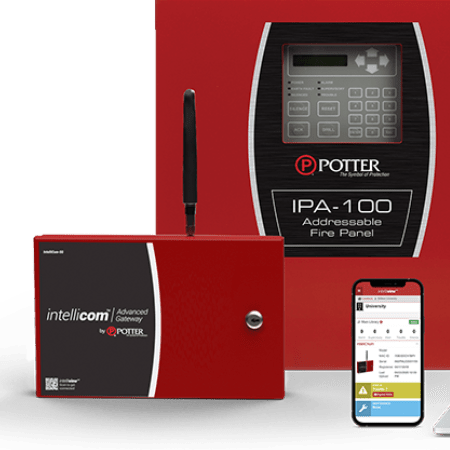 03 Nov

IntelliCom Advanced Gateway from Potter

"This groundbreaking solution eliminates compromises and takes fire safety to a whole new level," claims Bob Teta, Director of Software Services at Potter Electric Signal Company, discussing the capabilities of the IntelliCom Advanced Gateway.

Announced recently, the IntelliCom Advanced Gateway is an innovative new all-in-one fire solution, presented by Potter. The Advanced Gateway uses the initial IntelliView cloud dashboard to unify traditional landline, LAN and cellular communication technology. Utilizing information from all the above, the device presents unparalleled versatility through its presentation of insights, remote administration and intuitive monitoring capabilities that are unmatched in the industry.

What saves lives in Fire incidents, is the management of information. The IntelliCom Advanced Gateway streamlines more information than competing products on the market. The product incorporates into existing Potter panels through an ethernet connection, it also supports legacy DACT systems using dial capture.

The modular design allows for segmented upgrading at a pace appropriate for the user.

Key features advertised by Potter include:
Advanced cloud platform integration via IntelliView technology for enhanced capabilities and additional cloud features.
Seamless connectivity and compatibility with other Potter products – which means a unified system.
Mobile app access for reduced commissioning time, lower service expenses, and real-time data accessibility on-the-go.
Find out more from Potters range by visiting the official site: https://www.pottersignal.com/news/intellicom-advanced-gateway