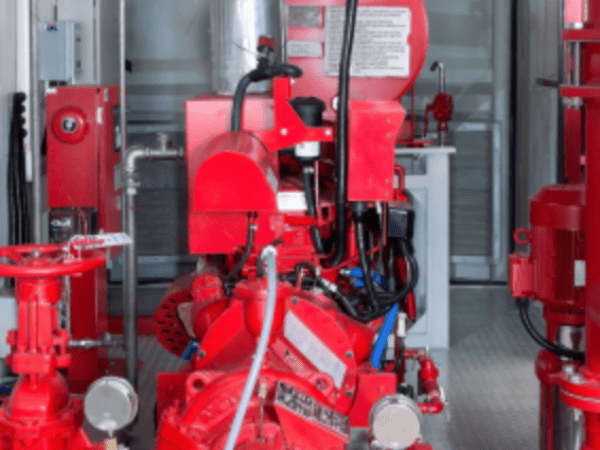 29 Sep

A new era of fire safety – Fire Pumps

Containerised fire pump systems offer a safe, reliable, and cost-effective solution writes Steven Baird, global product manager – of fire systems at Armstrong Fluid Technology.

Just like any other ecosystem, the buildings we occupy are carefully constructed from many components, all of which must work cohesively to deliver safety, comfort and value for occupants. The fire safety system within is a key component of this ecosystem, directly responsible for safeguarding human health and safety. And yet, according to the uae civil defence authority, an alarming number of sprinkler systems in residential and commercial buildings have not been commissioned correctly, or are not maintained to internationally recognised standards. Without having experienced a real fire emergency themselves, some building owners struggle to justify the cost and upkeep of these systems.

Fortunately, however, over the years, fire safety systems have continued to evolve and improve through enhanced technology and meticulous engineering. One of the more recent developments that has changed the game completely, is the introduction of containerised fire solutions. With this option, building developers now have a profound opportunity to improve safety and reduce costs with just one decision.

These 'plug-and-play packages protect lives and property against fire by supplying an adequate water supply to automatic sprinklers and standpipe systems. But before discussing the ins and outs of how containerised solutions can transform a building's fire safety system, let's first discuss exactly how they work.

Essentially, a containerised fire solution is a complete fire pump package, pre-assembled in a factory. Each system is built into a standard 20ft or 40ft shipping container as a single finished unit, making it ideal for international delivery. These units reduce installation time by up to 95% by eliminating the need for on-site assembly. All that's required on-site is for the pump house to be moved into position and connected to the rest of the sprinkler system. In fact, installation can be so simple as to only involve two pipes and two power connections.

Their modular, fully contained design makes them easily portable, but also easy to maintain, lowering costs along the entire supply chain. If needed, they can even be easily removed, transported to a new location and reinstalled, ultimately providing increased flexibility to serve future requirements.

Traditional 'stick-built' fire pump systems on the other hand, are typically composed of many different elements, all of which require sourcing from various suppliers and assembling on-site. For installing contractors, purchasing, handling and coordinating all required materials to build a complete fire pump system on-site is inefficient, with its own set of challenges; often pieces get lost or go missing, leading to construction delays. It must also be guaranteed that the specified components work both individually and holistically.

For installing contractors, purchasing, handling and coordinating all required materials to build a complete fire pump system on-site is inefficient, with its own set of challenges; often pieces get lost or go missing, leading to construction delays. It must also be guaranteed that the specified components work both individually and holistically.

Clearly, there are many elements in play when it comes to creating traditional sprinkler systems. It's also crucial for highly skilled labour to be used to install the traditional fire systems on-site, in order to ensure proper assembly. This, however, is often overlooked in the Middle East region due to cost-saving efforts and a shortage of skilled labour. But for something as crucial as fire safety, quality and performance are, of course, of the highest priority, with no room for compromise.

In my experience, containerised pre-assembled systems offer the perfect solution, addressing key challenges through the aforementioned 'plug-and-play' strategy. This bespoke alternative uses detailed drawings that show the exact dimensions and connection locations, significantly lowering the margin of human error. Stick-built systems constructed on-site are not built to a predetermined design, meaning that consistency cannot be guaranteed in the configuration of one installation to the next. A factory-built, containerised system, on the other hand, eliminates any uncertainty around system performance as a result of rigorous testing prior to delivery.

The advantages of containerised fire pump systems discussed thus far all centre on cutting costs in a safe way, without compromising on quality. This helps to maintain the same level of occupant safety while improving the return on investment for building owners. But in operation, containerised solutions do more than simply retain levels of quality. They even go as far as to improve performance and durability in comparison with traditional systems.

Armstrong fluid technology uses smart software to enhance the operation of its products and allows for predictive maintenance to ensure performance levels remain high. Our containerised systems offer peace of mind for building owners and occupants by adhering to relevant industry standards. The latest 3d modelling tools are used to ensure design integrity prior to construction, which ultimately enhances efficiency. What's more, our patented design envelope pumps, which are integrated into the containerised system, are establishing a new precedent for performance management technology, providing real-time diagnostics on the system's condition to alert when maintenance or service is required. The smart technology incorporated into the pumps also offers a level of transparency not seen before, through flow data, diagnostics and suction pressure analysis, among other things which can be beneficial for both owners and contractors.

It's important to recognise that maintenance of fire equipment is just as essential as choosing the right systems to begin with. All fire equipment requires scheduled maintenance and inspection to reaffirm that it remains in full working condition. Without this regular maintenance, failures or malfunctions may only become apparent once the systems are put to the test in an emergency situation – by which point it is often too late. Active performance management software, such as Armstrong's pump manager, makes monitoring and updating the system much easier, providing the ability to control operations from a remote location.

A high degree of customisation through the choice of components and materials is essential so that engineered-to-order systems can be aligned with the needs of each building. Their performance is tailored to comply with the exact specifications of the building, creating more opportunities for improved occupant safety and system optimisation. Ideally, containerised fire pump systems are designed with easy access in mind to encourage regular servicing and performance checks, further enhancing the safety and well-being of the building's occupants. What's more, fans and ventilation systems fitted within the container make for a comfortable working environment. Should issues arise, containerised solutions offer the added advantage of all system components having been manufactured and assembled by one company. This gives building operators a single point of contact in order to solve such problems following installation.

When compared with the traditional stick-built alternatives, containerised, pre-engineered fire pump systems offer an all-in-one solution that provides cost savings, without compromising on quality or putting the safety of building occupants at risk. Ultimately, their easy installation, effective functionality and compliance mean they are well-positioned to transform the fire protection industry in the Middle East and Africa.